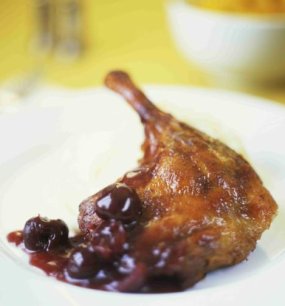 You liked the duck meat? Hmm ..
dish lunch
entree Obama's inauguration day this could be an inspiration. A very beautiful blend of tender duck meat is tasty with sour cherry sauce slightly sweet. The more perfect eaten with a subtle sweet potato mixed with molasses! This is my new
recipe
.
Ingredients:
1 tablespoon extra virgin olive olive
75 g onion, chopped
3 cloves garlic, crushed
1 tablespoon finely chopped red onion
1 / 2 tsp black pepper powder
1 / 2 tsp aniseed powder
1 / 4 teaspoon dried crushed red pepper coarse
3 / 4 teaspoon salt
50 g red pepper, chopped
1 red tomato, chopped
60 ml dry red wine, if desired
11 / 2 tablespoons cider vinegar
2 tablespoons granulated sugar
1 / 2 teaspoon Dijon mustard
1 can Bing Cherry, drained, cut into 4
50 g raisins / sultanas
10 pieces @ 180 g duck breast meat following bone
2 tablespoons water
1 tablespoon fresh tarragon
Method:
Heat oil and saute onion, red onion and garlic until wilted and fragrant.
Add joy, fennel, dried red neglect and a little salt, stir well.
Enter the paprika, stirring until wilted.
Add wine, vinegar, sugar, and mustard and stir well.
Enter 1 / 3 of cherry and salt and stir well. Remove and leave to cool slightly.
Take 1 / 4 of dough cherry, insert it into the bowl of a blender, process until smooth.
Cook the remaining batter with the remaining cherry cherry, raisins, water, and tarragon until thick. Lift.
Slices of duck breast meat, slice and coat with salt and pepper until blended.
Heat some water in a flat pan until boiling.
Enter the duck breast meat (the skin side down). Cook until the fat is melted and the color brown. Lift.
Rub the duck with cherry sauce mashed.
Bake in hot oven 180 until slightly dry and soft. Lift.
Sliced ​​thin crosswise. Serve hot with Cherry Sauce.