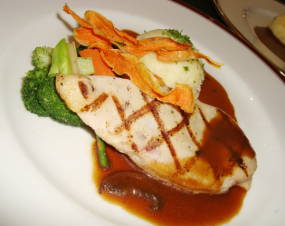 If you are
dieting
to avoid consumption of fat, steak is perfect for you.
Chicken
fillets that do not contain fat sauce is tasty and tender. Of course it was delicious, especially eaten warm with mashed potatoes!
ingredients:
500 g chicken fillets
2 tablespoons olive oil
Herb Oil, mix together:
30 g fresh thyme, chopped
30 g fresh parsley, chopped
30 g fresh basil, chopped
4 tablespoons olive oil
Vin Blanc Sauce:
2 tablespoons olive oil
6 eggs onion, finely chopped
3 tablespoons fresh thyme
20 g parsley leaves
3 tablespoons black pepper
1, 750 ml dry white wine, optional
500 ml double cream
Method:
Slice each chicken fillet in half crosswise one.
Spread with Herb Oil and let stand for 30 minutes.
Heat a flat pan, put a little olive oil. Cook each piece of chicken until cooked through and slightly dry. Lift.
Vin Blanc Sauce: Saute onion, thyme, parsley and pepper until the onions wilted and soft.
Add the white wine, cook over medium heat for 30 minutes until the wine evaporates and the pervasive and almost dry.
Pour the cream, bring to a boil then remove from heat immediately.
Strain and bubuhi salt and pepper, chill.
Keep refrigerated
Serve steaks with sauce.