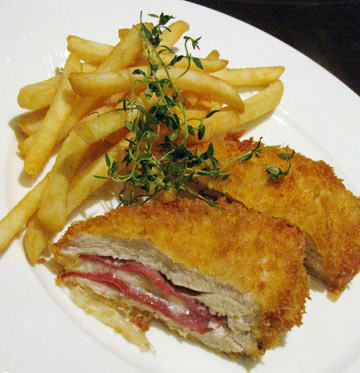 This
European classic chicken steak
never subsided fans. Bread flour coating on the outside was crunchy crisp. The inside is soft tasty with melted
cheese
and bacon aroma. Hmmm .. yummy!
ingredients:
2 pieces of chicken breast without skin and bones
2 pieces of smoked beef
2 pieces of mozzarella cheese
1-2 eggs, beaten
50 g wheat flour
50 g bread flour
Salt and pepper
100 g French Fries
Method:
Cut chicken breast lengthwise to open and shaped like a butterfly.
Wrap in plastic and then at-bat at the meat until flattened.
Put 2 sheets of smoke beef and a piece of cheese.
Close up of cheese and bacon in the middle.
Dredge in flour, dip in beaten eggs and coat with bread flour until blended.
Fry in hot oil and a lot over medium heat until golden and cooked through.
Remove and drain. Serve with French fries.